Santa Truck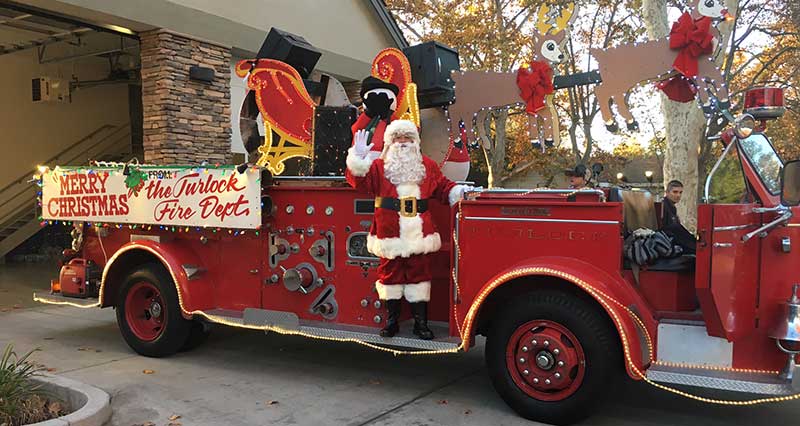 Turlock Fire Incorporated is happy to confirm our Santa Truck will be visiting community neighborhoods once again this Christmas season!
Due to the Coronavirus pandemic, a few modifications have been made in an effort to protect everyone. This year the Santa Truck will not be distributing candy and will be unable to stop at any holiday parties along our routes. We will, however, still be shouting hellos and sharing lots of Christmas cheer along the way.
Please refer to the schedule which will be updated online to see when Santa will be headed to your neighborhood! Santa will also do his best to reschedule any visits affected by the rain.
This year, Santa will be visiting us from December 2 – 20. He hopes to drive by your street and wish you a Merry Christmas , but please keep in mind he may not be able to go around every street because of our City's size. The search box below gives a general idea of the area covered that particular evening. Keep an "ear" out for the sirens and Christmas music in order to catch a glimpse of Santa and his elves. Thank you to the members of Turlock Fire Incorporated for bringing Santa to Turlock!
If you have any questions, you may call (209) 669-2121 to hear Santa's schedule.
Note:
Sorry we will not be able to enter any cul-de-sacs, it is hard to turn around with the Santa Truck. If Santa runs into any bad weather this year we will not be able to have any make up days available this year due to city's growth.
Happy Holidays